Secondary Injection Unit
It easily transforms your standard press in a machine for multicolor or multicomponent.
Our auxiliary injection units are completely autonomous being equipped with their own hydraulic unit, electronic control panel and touch screen for the setting.
This feature makes our auxiliary injection units easily adaptable to any existing press through appropriate interface EUROMAP 12 or 67, and it also makes the transformation of a standard press into a very economical multi-color and multi-component press.
The wide range of products can satisfy any request of shot volume, from 5 cc to over 2000 cc. You may also process any type of polymer that you can inject due to the possibility of equipping the unit with bimetallic cylinders and screws with dedicated profile.
Our auxiliary units can be placed either horizontally or vertically and can be fixed on both Mold Fixing Platen or directly on the mold. Our technicians are available for the customer to study placements with special needs.
The auxiliary injection unit's setting occurs through its own color touch screen that allows you to easily and intuitively set all the usual parameters needed for the molding cycle.
All components have been selected to ensure reliability, robustness and cheapness of use. It is also available as standard, through WIFI connection, remote assistance to enable us to perform, from the comfort of our home, the control settings and to install any software updates.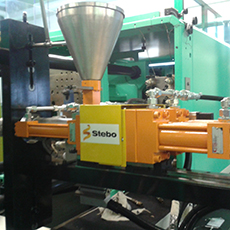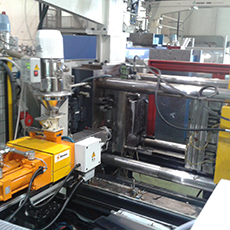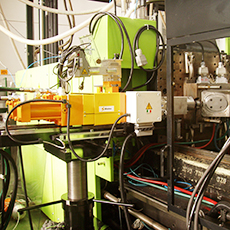 Model
ST60
ST100
ST150
Screw diameter
mm
15
18
22
25
28
28
32
35
L/D Ratio
L/D
22
18
24
21
19
23
20
18
Screw stroke
mm
60
100
150
Screw Speed
rpm
300
300
260
Recovery rate
g/s
2,4
3,5
5
9
11
9,5
11
13,5
Injection rate
cm3/s
12,4
18
12
18
26
51
66
80
Max Injection Capacity
cm3
10,6
15,3
38
49
61,6
92
120
144
Max Shot Capacity – PS
gr
10,6
15,3
38
49
61,6
92
120
144
Max Shot Capacity – Rubber
gr
9
13,4
33
42
53
79
103
124
Injection Pressure
bar
1984
1380
2230
1784
1423
2278
1744
1458
Pump Pressure
bar
175
175
175
Heating Power
Kw
2
2,4
7
Installed Power
Kw
4
6,4
14
Oil Tank Capacity
L
10
25
100
Model
ST200
ST300
ST400
Screw diameter
mm
35
40
45
45
50
60
60
70
80
L/D Ratio
L/D
23
20
18
25
20
17
23
20
17
Screw stroke
mm
200
300
400
Screw Speed
rpm
220
210
210
Recovery rate
g/s
11
18
27
25
33
51
51
74,5
104
Injection rate
cm3/s
64
83
105
136
168
242
208
248
371
Max Injection Capacity
cm3
192
251
318
476
588
847
1130
1538
2010
Max Shot Capacity – PS
gr
192
251
318
476
588
847
1130
1538
2010
Max Shot Capacity – Rubber
gr
165
216
273
404
500
720
961
1307
1709
Injection Pressure
bar
2280
1744
1379
2160
1750
1220
2012
1480
1132
Pump Pressure
bar
175
175
175
Heating Power
Kw
8
17
25
Installed Power
Kw
16
32
47
Oil Tank Capacity
L
100
150
200